Cairn Box: June 2017 Review
The June 2017 Cairn box arrived in the middle of a long work week, and provided the perfect happy moment after a long day at work. The surprise of what we find in our box every month is something that we look forward to as soon as we open one, eagerly awaiting the next. After the hammock last month, we weren't sure they would excite us this month! But this box had it's own surprises in store... and headed right up to the mountains with us for the weekend!
DrinkTanks 16 Ounce Drinking Vessel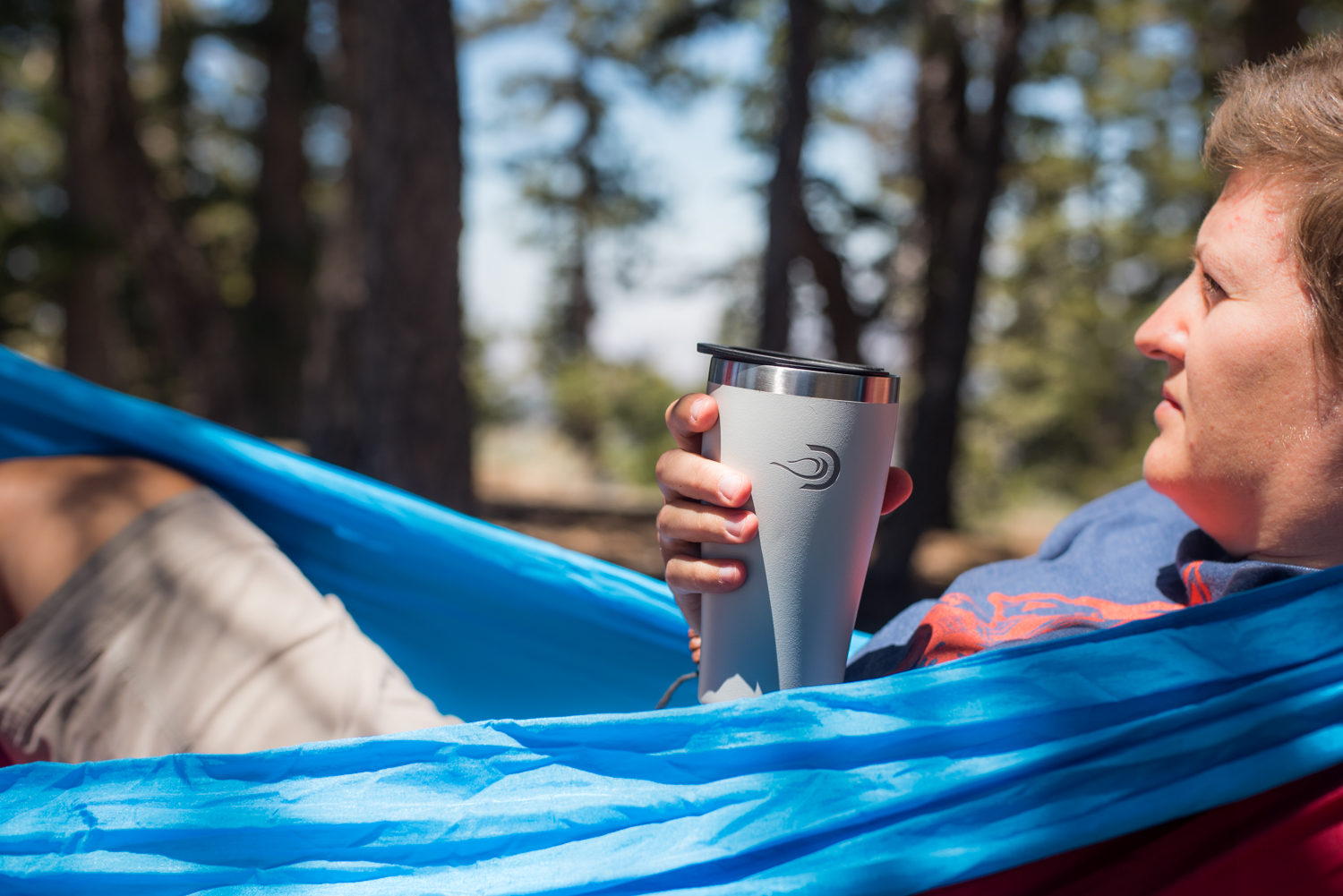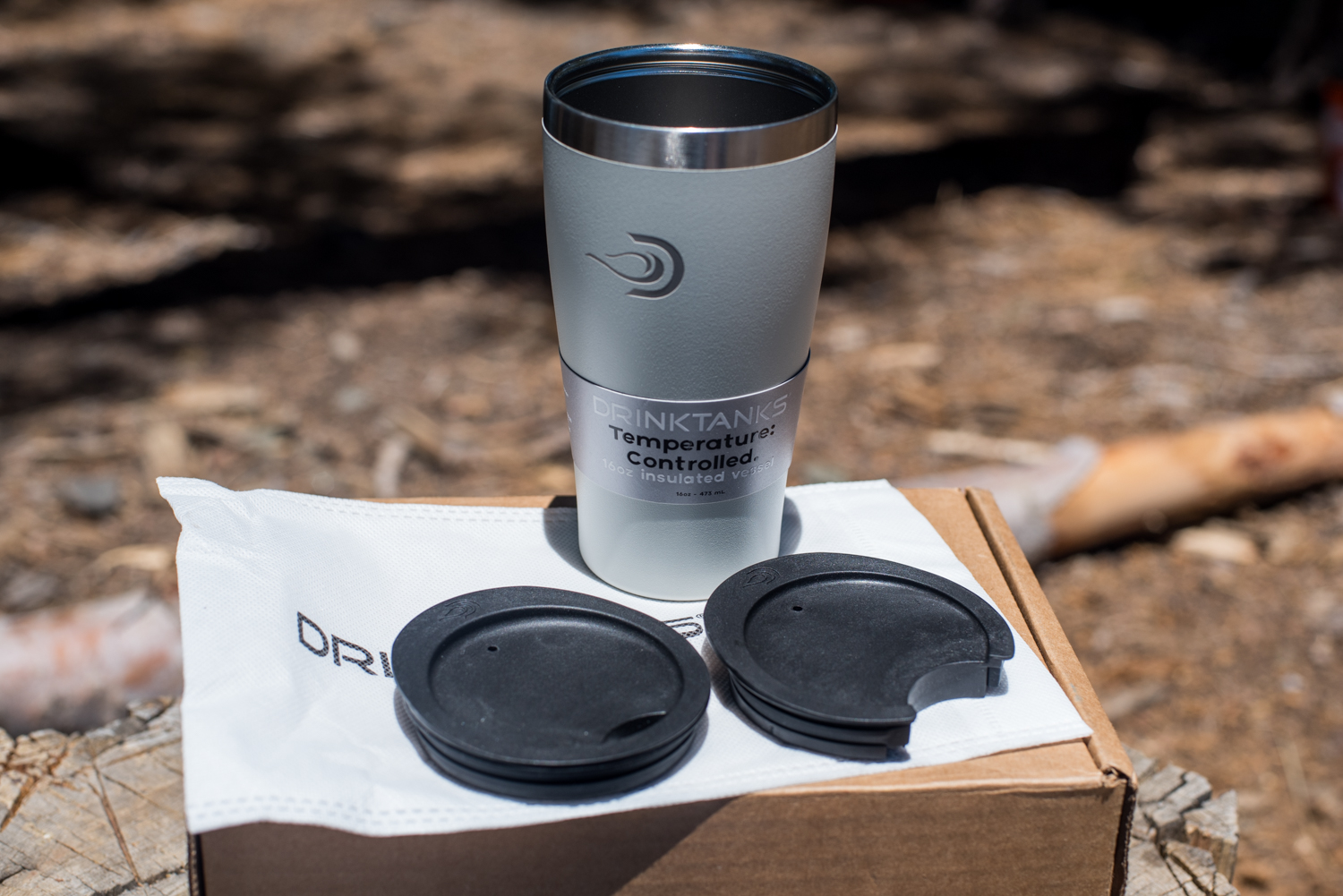 Our Cairn box made us fall in love with another insulated cup brand... way back at our first box, we received a similar cup (our Hydroflasks) and it eventually multiplied into coffee tumblers, big water bottles, small water bottles, and more tumblers. So, while we are pretty big fans of that other brand, we are always excited to try out drinking utensils!
DrinkTanks is a newer brand, with a new tumbler, and Cairn box subscribers were the first to get their hands on these. Our tumbler is a cool grey/white color and seems to be a substantial cup for hots or colds. It's a little curvy and has a nice shape to it.
We headed to the mountains just after receiving this box, and this DrinkTank was a perfect fit for a sunny afternoon of swinging in the hammock (from last month!). It definitely keeps cold things cold, even in the sun. It headed to the beach with us, too, and worked well on a very hot day!
DrinkTanks Lids
Cairn threw in a hot and a cold lid, which is a nice treat. The cold lid has a wide opening, for a smooth pour. The hot lid has a slightly smaller opener for a controlled sipping. The lids seem substantial and likely add to the insulating factor. Best of all, they'll keep the bugs out of the beer while camping... and the coffee from sloshing in the car!
HydraPak Bottle Bright
At first, this seemed not so exciting... something to clean with, hurray!? Then we inspected a little more, and went on to read about this item, and it got more exciting. These tablets just plop into warm water, sit and fizz, and clean up stained and smelly bottles.
We both use HydroFlask coffee tumblers everyday for transporting our coffee to work. They are (or were) grossly stained, brown and icky inside, and probably don't have a great taste effect, either.
Cool thing - these can be used on water bottles and stainless steel mugs, but also on water reservoirs. I don't know about you, but I feel like those reservoirs are never actually clean, so this should make getting them actually clean pretty easy.
We tested this product out on both of our mugs, and within a few minutes, could see the funk gathering at the top of the water. The photos below give the picture of before and after - we feel like we have new mugs, and the coffee tastes better!
ReGrained Sustainable Supergrain Bar
We love the opportunity to try so many unique, new, and tasty bars through our Cairn subscription. This bar is really cool. Made from up-cycled brewer's malt from craft breweries, added to quinoa, oats, and nuts - this is sure to be a delicious trail treat.
We love coffee, we love beer - so we were pretty sure we'd love this bar. Turns out, we did! It was a delicious and flavorful, with a delicious consistency and texture. We really enjoyed this bar, and we're hoping we can start picking these up in stores soon!
Our flavor was a dark, chocolatey looking treat - Chocolate Coffee Stout. With a company slogan of "Eat Beer" - we're on board. Cool company, yummy bar!
Slipstream - a 3 Month Trial - watchslipstream.com
The box also included a free trial subscription to Slipstream, which is a Netflix type of service for adventure and outdoor films. We started our trial, and they didn't request any financial info, so no commitment required.
We browsed the selection a bit, and it looks like there are some great films on here for climbers and ski enthusiasts, etc. We found one short film ("Ace and the Desert Dog", from Vasque Footwear) about a dog who went on a hike with his man for 60 days... we laughed and cried, and are now definitely more interested in browsing what this service has to offer.
The June box included the new Cairn Scout newsletter, which is really fun to read. It's a little newspaper, with stories and features about your box of items. And we got a Cairn sticker.
Now, cheers to you and to Cairn for this great box!
If you think you'd be interested in joining this awesome subscription box, take a look at their site.
We have received some amazing stuff in our Cairn boxes, such as a Cotopaxi backpack and our Luminaids, that nice hammock in the photos above, lots of trail food to try out, and some very useful gear - water filter, utensils, bug spray, sunscreen, sunglasses, water bottles, and more! We don't receive anything from them for free, we are regular subscribers, and we love the stuff we get in a surprise box of goodies every month!